Accessibility
We are committed to providing a barrier-free environment for our clients, students, employees, job applicants, suppliers, visitors, and other stakeholders who enter our premises, access our information, or use our services. As an organization, Idlewyld Manor respects and upholds the requirements set forth under the Accessibility for Ontarians with Disabilities Act (AODA), Customer Service Standard and the Integrated Accessibility Standards Regulation for Information and Communications, Employment and the Built Environment.
Idlewyld Manor's Accessibility Plan and Accessible Customer Service policy ensure the requirements of the Customer Service Standard and Integrated Accessibility Standards Regulation (IASR) of the Accessibility for Ontarians with Disabilities Act (AODA) are being upheld by Idlewyld Manor and all members of Thrive Group.
Our Accessible Customer Service policy is posted on our website. To request a copy of this policy in a different format that is appropriate to your needs, please contact us. 289-309-8477
Accessing Long-Term Care
How To Access Long-Term Care
Admissions to all long term care homes in Ontario are made by Home and Community Care, delivered through Local Health Integration Networks. These agencies can help:
Clarify care needs
Explain available choices
Make connections to appropriate services and providers in your community
Arrange for admission to a long- term care home
For information and to determine your eligibility for government funded services and support, call 1-800-810-0000 or email [email protected].
Resident Bill of Rights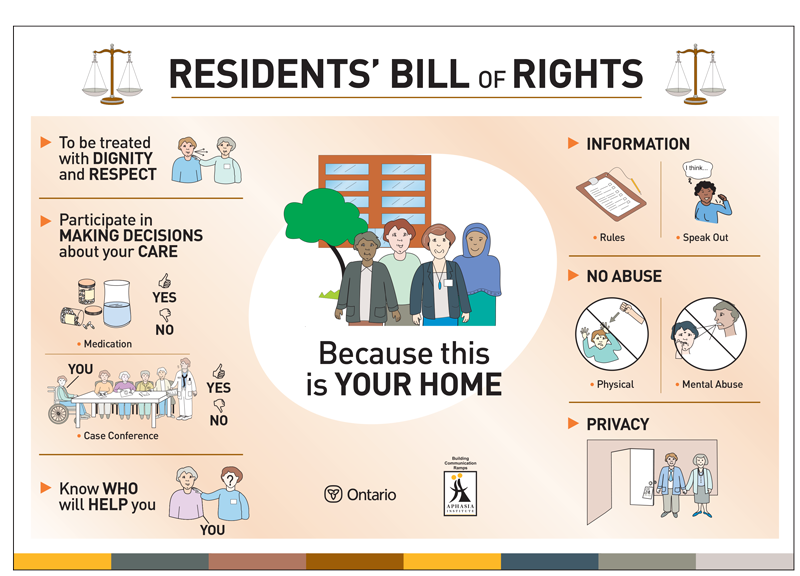 As per the Long-Term Care Homes Act, 2007, the Residents' Bill of Rights has been updated.
Safety and Security
Idlewyld Manor offers a secure environment. Fire and stairwell doors are secured with Mag Locks that prevent the door from being opened internally or externally. All doors will automatically release in the event of a fire. Many of the doors have keypads adjacent to them that when activated will release the Mag Locks for a time-limited window allowing residents, family or staff to enter or leave the building. Doors will alarm or relock at the end of this designated window of time.
Coded access allows residents and families to move freely in and out of the building. Residents who are capable are invited to exit the building and utilize the walkway, courtyard and garden areas around our home.
Secured Home Area
Creekside Resident Home Area is the one secure home area at the Manor. Female residents who tend to wander or have varying degrees of confusion are best accommodated in this Home Area. Keypads have been installed on the exit doors of this Home Area. Directions to enter and exit this Home Area are posted on the wall. A watchmate audible alarm monitors the main exit at Creekside for residents who wear a watchmate bracelet. Safety is a priority concern in caring for Residents who are confused.
Safety Guidelines
The following guidelines have been developed for Residents and family members to ensure Resident safety, and minimize room congestion:
Store off-season clothing, heavy baggage, and suitcases in the home of a family member.
Idlewyld Manor provides color-coordinated bed covers, window toppers, and furnishings that have been ergonomically designed.
Bed, night table, dressers, and a chair are provided.
Any other furniture requires approval and should be on casters or gliders for ease of moving.
For safety reasons no throw rugs, floor lamps or storage of items under the bed.
Electrical Appliances
The maintenance staff requests that new Residents bring any electrical appliances (lamps, radios, TV, fans, etc.) to the Manor before the move for a safety check.
All lamps must have harps to secure the shade away from the light bulb. Floor and wall mounted lamps are not permitted. Touch lamps are recommended for ease of Resident use.
The following is a list of electrical equipment that is not permitted:
Humidifiers
Heating pads
Electric blankets
Space heaters
Hot plates
Toasters
Kettles
Power bars
Extension cords
Coffee Makers
Hair Dryers
Fire Safety
Idlewyld Manor is equipped with a three-stage fire alarm system. When the fire alarm is activated, the chimes sound slowly throughout the Manor during the first stage. These first stage chimes are an alert stage, letting everyone know there may be a fire in the building and to prepare to evacuate if necessary. The second stage is only heard in the fire zone if we need to evacuate the fire zone. These chimes are much faster. The third stage is sounded throughout the entire building indicating a need for total evacuation.
PLEASE NOTE: Aerosol spray cans are restricted in the Manor (e.g., personal deodorant, room fresheners, etc.). Our smoke detectors are very sensitive, and the spray may activate the fire alarms.
Security
The main entrance door is locked at 9:00 p.m. Residents returning to the Manor after 9:00 p.m. must ring the intercom buzzer (to the left of the door) to gain entry to the Manor. Staff, throughout the night, conduct security rounds. All exit doors and stairwell doors are monitored by keypads to enhance Resident safety. All exits are secured at night.
A wanderguard system is in place for Residents at risk of wandering while awaiting a room on our Secure Home Area.
Entrances to the building are monitored by video surveillance.
Storage and Memory Boxes
Each Resident has a locked drawer in their wardrobe to secure any valuables. Memory boxes are located outside each Resident's room. These spaces are provided to display personal items belonging to the Resident in that room. It is also a good way for a Resident to identify his/her room. There is a small charge for the replacement of lost keys.
Helpful Links
Understanding long-term care options and accessing important information can be challenging.  Below you will find links to a few website you may find helpful depending on your specific needs.
Costs
The Government of Ontario determines rates for all long-term facilities. The co-payment for a standard room can be subsidized depending on a person's income. We will work with you to determine if you are eligible for a reduction.
F.A.Q.
Rates are set by the Ministry of Health and are currently: Basic $1,938.46 & Private $2,769.14. These are monthly rates.
A Resident can keep his/her family physician only if the physician agrees to continue the care and has applied for privileges at Idlewyld Manor. The Manor's Physician is at Idlewyld Manor two days per week.
We provide 24-hour full medical coverage. Personal Support Workers, Registered Practical Nurse (RPN) and Registered Nurse (RN) are on duty at all times. The registered staff administers all medications to our Residents.
Therapeutic Recreation staff provides Resident programming 7 days a week. Current Recreation calendars are posted on our website.
Equipment is provided for the short term use of Residents, including wheelchairs, geriatric chairs, canes, walkers. Note: If a Resident uses a walker or wheelchair routinely, he/she will be asked to purchase their own equipment. We will arrange for professional assistance to aid in selecting the best equipment to suit their needs. Please feel free to contact the Physiotherapist who can provide a vendor list. There is assistance to obtain government funds through the Assistive Devices Program (ADP) to help in the purchase of special devices or equipment needed.
While we encourage families to provide pictures and memorabilia on the day of admission, chairs, dressers and other furnishings must be approved by the Nursing Management Team based on the Resident's care requirements and the available space in the room prior to bringing in furniture. The furniture provided must remain in the Resident's room. We would encourage you to bring approved furniture items to the room after the care requirements are established by the care team.
Residents are not permitted to keep pets. Pets can visit provided they are friendly, well behaved, vaccinated, and supervised. A pet permit issued by Idlewyld Manor must be obtained prior to a pet visiting.
Dry cleaning is done off-site. Residents or families are responsible for dry cleaning costs. The Manor will send articles of clothing to the cleaners for Residents on request, when family members are not available to assist.
Clothing should be comfortable, machine washable, and adaptable
Special diets to suit nutritional needs are provided. We have a dietitian who assesses and monitors diets daily.
As per the Ministry of Health and Long Term Care requirements, Residents are provided a choice at every meal.
Meals are prepared on site and served to our Residents in dining rooms in each Resident Home Area.
In order to permit family and friends to bring safe foods to the facility on special occasions, the following procedure should be followed:

Resident's family or friends are to notify the food service department.

The foods that family are purchasing and bringing into the facility should have an expiry date on them.

Foods made at home should be dated with preparation and expiry dates.

Foods brought in by family members for parties should only be for their loved one.  Food to be shared with all Residents (e.g. birthday cake) must be purchased through Idlewyld Manor.  

Prior to Resident family members or friends bringing food from home into the Manor that is not for a special occasion consultation with the food service department (Food Service Manager/Food Service Supervisor) is required. This information should be communicated to the dietary department.

All food brought in must comply with the Resident's prescribed therapeutic diet order. 

 
Guests are welcome to purchase meal tickets to dine with their loved one. Meal tickets for guests may be pre-purchased at the Business Office (Monday to Friday, 9:00 a.m. – 5:00 p.m.). Weekend visitors must purchase meal tickets in advance for use on the weekend. Please note: maximum of 3 guests per meal, per Resident. Groups larger than 3 are asked to reserve the Family Dining Room by contacting the Manager of Recreation and Volunteer Services.
Idlewyld Manor does not have set visiting hours. Families and friends are encouraged to visit at any time throughout the day and early evening. Children are welcome, as are well behaved, vaccinated, and supervised pets. Visits may be outdoors in our courtyard during warm weather.
Religious services are held throughout the week and on Sundays in our interdenominational chapel. At present, church groups representing a variety of faiths provide services. The times of these services are noted on the monthly activity calendar posted for all Residents. We welcome Residents to share their faith and to discuss their needs with us. Pastoral advisors (Minister, Priest, etc.) are most welcome to visit at any time.
There various health services available to our Residents including, dental, audiology, respiratory, eye, and foot care. Clinics are offered throughout the year based on Resident demand.
Our Residents are able to go home with family for overnight visits as per the Ministry standards which indicate that Residents are entitled to two overnight casual days away each week. For safety reasons, we ask family to notify staff and sign out at the Nurse's Station if they are taking a family member/Resident out of the building. There is also something called Vacation Leave of Absence. The Resident may take a vacation LOA Up to twenty-one (21) days per year (January – December), with accommodation costs to be paid as though the Resident was physically at the Manor. Casual leaves (48 hours per weekend) may be interspersed with vacation days to extend the vacation, up to a maximum of thirty-one (31) days per year. Vacation leave is not cumulative from year to year.
Nursing and personal care on a 24-hour basis, including care given by or under the supervision of a registered nurse or a registered nursing assistant, the administration of medication and assistance with activities of daily living.
Medical care that is available in the facility:
Note: Residents may continue to have their personal physician provide care to them in the facility. These physicians will be expected to meet the standards and criteria for attending physicians. (Refer to Medical Services.)
Medical supplies and nursing equipment necessary for the care of Residents, including the prevention or care of skin disorders, continence care, infection control, and sterile procedures.
Medical devices, such as catheters and colostomy and ileostomy devices.
Supplies and equipment for personal hygiene and grooming, including skin care lotions and powders, shampoos, soap, deodorant, toothpaste, toothbrushes, denture cups and cleansers, toilet tissue, facial tissue, hair brushes, combs, razors/shavers, shaving cream, feminine hygiene products.
Equipment for the general use of Residents, including wheelchairs, geriatric chairs, canes, walkers, toilet aids and other self-help aids for the activities of daily living.
Meal service and meals, including three meals daily, snacks between meals and at bedtime, special and therapeutic diets, dietary supplements and devices enabling Residents to feed themselves.
Social, recreational and physical activities and programs, including the related supplies and equipment.
Laundry, including labelling, machine washing, and drying of personal clothing.
Bedding and linen including firm, comfortable mattresses with waterproof covers, pillows, bed linen, wash cloths, and towels.
Bedroom furnishings such as beds, adjustable bed rails, bedside tables, comfortable easy chairs, and where a Resident is confined to bed, a bed with an adjustable head and foot.
Standard ward accommodation.
The cleaning and upkeep of accommodations.
Suitable accommodation and seating for meetings of the Residents'/Family Councils.